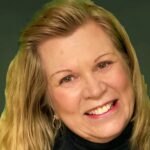 Dianne Clark provides assistance to organizations that are considering adopting technology to accelerate their growth and productivity. She shepherds complex transformations as a business transformation architect, improving service delivery and re-engineering strategies for migration to digital channels. Dianne translates business requirements to technical realities, contributing to customer satisfaction and profitability.
>25 Years Industry Leadership
CEO of Trendspire Inc. (Consultancy Firm), established 2000, specializing in Business and Digital Transformation
Former University/College Professor in ICT, Digital Marketing, Organizational Development, Stakeholder Engagement
Developed Ministry-approved courses in Collaboration for Senior Leadership Teams
As Quoted in Advancing Digital Adoption Amongst Women SBOS in Canada http://www.startupcan.ca/womendigitalsbos
Co-Author of a Post-Secondary Textbook in Stakeholder Engagement for Change Practitioners
Advisor for Startup Canada and Mentor for PMI Toronto Chapter
Sample Digital Transformation Projects
Technology Product Lead for several >$MM transformative, multi-stakeholder, functional and collaborative projects including:
A $MM Pan-Canadian bilingual portal to supply Canadian non-profits with a collaborative infrastructure
User experience for Ontario's Distance Education & Training Network
Developed a content retrieval system for the first digitized Community 211 Information System
System selection consultant for BDC (Business Development Canada)
A Technology Audit of 317 Learning and Basic Skills Organizations
Set up hundreds of merchants with Client Relationship Management (CRM) Systems
To enquire for Dianne to join your next virtual or in-person event (i.e. keynote, workshop or panel), enquire here.
Dianne applies a vendor-neutral approach and provides coaching and consulting across all software products, platforms and services.
Testimonials
Dianne is very insightful, creative, practical, effective and decisive at business and technology planning and execution. I found her insights invaluable for evolving our business concepts into tangible and implementable tasks and functions. If you need someone to help you make your great ideas real, seriously consider engaging Dianne. — Alex T.
I met Dianne during my tenure on the board of directors at the local Chamber of Commerce. I joined the government affairs committee as I was keen on participating in regional decisions made on behalf of business owners. I was immediately struck by Dianne's calm, incredibly well-informed comments, and the ideas she came up with. She was strong without being strident, assertive without being perceived as aggressive. I thoroughly enjoyed our committee meetings when Dianne was there. I knew there would be intelligent discussions. I would highly recommend Dianne to anyone. — Chrisse A.
I was first introduced to Dianne when she was presenting a talk on technology solutions for entrepreneurs. Her presentation style is so authentic, she takes you on a journey to arrive at a place that leaves you both satisfied and ready to take action. We then worked together on a large project with a tight timeline. Thanks to her expertise in assessing technology needs for people and processes, the project was delivered on time. She is passionate about working collaboratively and does not shy away from acquiring the best ways to make it happen. I'm very happy I had the chance to work with Dianne. — Nadira C.
Dianne's innovation, energy and entrepreneurial spirit never fails to amaze me. She is constantly creating solutions that have practical applications. And it's not just her creative ability! It's her ability to actually follow through with implementation and make it happen; passionately communicating, teaching and sharing concepts and ideas in useful terms. Dianne's a person who has a strategic perspective, who is non-judgemental, and who is an absolute pleasure to work with. — Kellan B.
Looking to organize and stay on top of new business and clients? I think most of us are, and it was thanks to the work and pro-active encouragement of Dianne Clark that I switched to a new CRM and learned to navigate it as well. She is patient, thorough, encouraging and she wants you to understand the system, so you can be comfortable long-term in order to build your network and business. I am more than happy to suggest her services to any business owners or businesses looking for a more organized and capable system to build their organization for lasting success. — Steffi B.